While loving God, others and our city, we feel called to three distinct initiatives where we focus our ministry and efforts toward. Click on each initiative to learn more about how we partner with the church and other organization to see hunger ended, justice served, and families strengthened.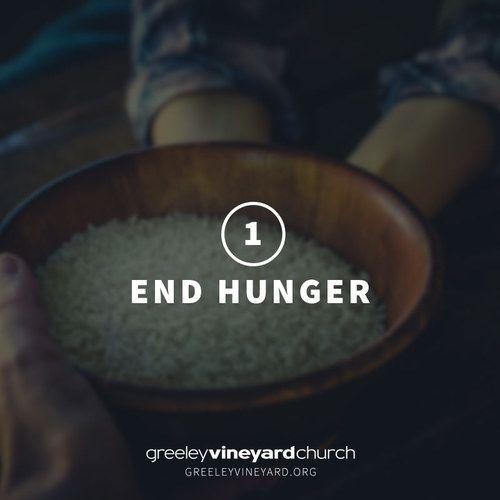 We at the Vineyard want to see hunger end, not only in our own community but globally. To that end, we partner with organizations who are already dedicated to this cause.

WEEKLY DRIVE THROUGH FOOD PANTRY
In partnership with the Weld County Food Bank, we make a dent in hunger in our own community through our weekly drive up pantry. We partner, not only financially, but also practically, though providing weekly food boxes and survival kits for UNC students at finals.

TURKEY BASKETS
Every Thanksgiving we strive to help families in need by providing baskets full of all the Thanksgiving day necessities.

CONVOY OF HOPE
This global organization has helped more than 80 million people throughout the world by sharing food, water, emergency supplies, agricultural know-how, and opportunities that empower people to live independent lives, free from poverty, disease and hunger. Annually, we participate in One Day to Feed the World where we ask everyone in our church to prayerfully consider donating the amount you would earn for a day of work to Convoy of Hope.



Justice is something that is not only at the center of our hearts at the Vineyard, but we believe God is making all things right and new. We want to partner with God to see justice come to our families, community and to the ends of the earth. For this, we have partnered with specific organizations who are bringing justice to the city of Greeley and also globally.

FREE OUR GIRLS
This organization seeks to meet the needs that exist within a specific community. They provide much-needed training and prevention programs, make progress in the legal and congressional arenas, and provide the networking and resources for those affected by sex trafficking. Free Our Girls was created and designed by a sex trafficking survivor, who offers her in-depth knowledge of these horrific activities in an effort to empower communities to fight this issue effectively. In the summer of 2018, we opened our doors here at the Greeley Vineyard, to provide office space for this growing organization, as they work to seek justice for those affected by sex trafficking in and around Greeley. We are pleased to announce that in the spring of 2019, Free Our girls was able to acquire their very own building here in Greeley, to continue supporting women caught in the sex trade industry. We continue to partner with this growing organization to see justice happen in our community.

ZOE'S CAFE
In 2011, things radically changed when a team of 20 eager travelers ventured from Zoe's to a coffee farm in Villa Rica, Peru. Their abrupt introduction to coffee farming in the Amazon jungle included lots of mud, little knowledge, and being changed by huge hearts of the welcoming Quispe family and resulted in a powerful and mutually benefiting impact that relationally traded coffee could have both for their lives and for ours. We proudly serve Zoe's Mama Nelly's Peruvian coffee here at the Greeley Vineyard as small way to support justice to the end's of the earth


Today we see more brokenness, hurt and disconnection at home. We believe that when families are supported, loved and encouraged they truly can fill their God given mission, to love the world around them. At the Vineyard, we not only want to equip and encourage our families within our church, but we want to see our community and families all over the world reconciled and strengthened.

FRED TJARDES SCHOOL OF INNOVATION
We love students and we want to partner with our local school district to support the students and families of our community. School of Innovation is a District 6 school that aims to develop students that have the critical thinking skills necessary to become productive citizens with a specific design around cross-curricular hands on projects, all while being located in downtown Greeley. We serve this school in a couple of ways. We open our building 1-2 per year to provide much needed space for the school to host their musicals and theatre productions. We also go the school monthly to provide cleaning as the school does not have a janitorial staff. During covid 19 we are unable to physically serve in schools. Stay tuned for updated information to come.

HABITAT FOR HUMANITY
In 2019, the Habitat for Humanity of Greeley is organizing their second annual Faith Build, where the finances and build will be primarily facilitated by churches and faith based organizations in and around Greeley. We are excited to partner with Habitat to provide a home for a family in need and this goes right in line with our initiative to see families loved and supported.

THE CHURCH
You the church are our partner. Who better to strengthen and encourage the family next door or that single mom struggling to make ends meet? Through small groups, through outreaches like Thanksgiving turkey baskets and stay close to the needs of families within our church community, we can partner to see families all over Greeley supported and loved. Through our Storehouse, where clothes and dried food goods are provided, we can help meet the practical needs of families in our community.